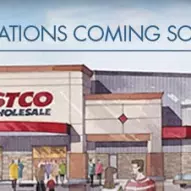 As of today, Kyoto can boast of having a Costco located within the prefectural boundaries! Yawata City, which lies just along the northeastern border of Osaka prefecture, is host to one of the latest Costco stores to be opened in Japan. Tons of people will be flocking to the store today to get a glimpse of the latest addition to the Costco Japan family. Roads leading into the Yawata Costco will most likely be jammed with cars as members and visitors head to the store to shop on Opening...
Read More
Two days after we posted that Costco would probably open their doors to the Yawatashi, Kyoto store on December 8th, Costco changed the sign outside the store and added the opening date. Costco Yawata will open December 9th! If you are not a member yet, get your membership now before the doors open at a 1000 yen discount. Go to the store to sign up. View Kyoto Costco Yawata in a larger...
Read More
We have been writing about the Kyoto Costco store in Yawatashi for months. People who live near Kyoto have been anticipating and wondering when it will finally open ever since we got wind that it would be built in Yawata. Well, get ready because we may have found out the day it will open! Locals in the Yawata Costco area have heard, either from a little bird or from those who work or will work at Costco there that the new store will open on Dec 8th, in time for Christmas and right after...
Read More
Costco Opening A Store in Kyoto
Good news is coming to Kyoto in the form of low prices. Costco will be opening a new store in the Yawatashi area of Kyoto. They will begin construction on the new store soon and plan to open it around August of 2011. Costco has picked out a nice sized piece of land, however the roads leading to this property may cause traffic congestion. Residents are excited about the new store opening in their neighborhood because many already shop at the Amagasaki store an hour and a half away. However, most...
Read More