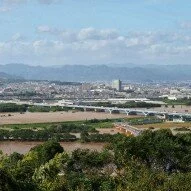 Typhoon 18 Causes Flooding in Kyoto
www.simplesharebuttons.com
Share this story...




The latest typhoon to hit Japan has wreaked havoc on Kyoto causing millions of dollars in water damage. Residents and business owners in areas nearby canals and rivers are having to pump water from their buildings. Most of those feeling the brunt of the storm are in low lying areas near the three major rivers: Kizugawa, Ujigawa and Katsuragawa.
If you are planning to travel around Kyoto this week, you'll be better off traveling by train. Trains are still running in most areas, but those driving cars are experiencing heavy traffic conditions due to flooded roads.
NOTE: Take caution wherever you go especially along steep mountainsides. Some landslides have been reported throughout the Kansai area.
Before and After picture of Yodogawa flooded from typhoon 18 rain
Wading through flooded street to home
Flooded street in Yawata
Floodwater line along highway in Kyoto
Flooded Ujigawa and Kizugawa rivers in Kyoto