There are two places around Kyoto that stand out above all other places. Some of you may argue with me, but that's ok. I'm used to it. However, if you have ever been to these places you will probably agree with me. Both of the places have all kinds of different trees located on the premises. One is lit up at night during autumn and the other isn't…although it should be. One has a tall pagoda and a veranda overlooking Kyoto. The other has a small ravine filled with maples...
Read More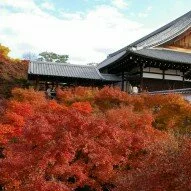 Momiji viewing is not just something people in Japan do. People all around the world go places to see the autumn leaves changing colors. It's one of the most beautiful times of the year. But for those who live in the Kyoto area or people just visiting, finding a good place to see colorful autumn leaves can be a daunting task. Sure, a person could just go about anywhere in Kyoto and see trees with autumn colored leaves. But that isn't really momiji viewing. Momiji viewing involves...
Read More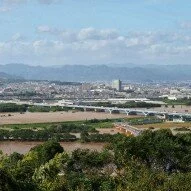 The latest typhoon to hit Japan has wreaked havoc on Kyoto causing millions of dollars in water damage. Residents and business owners in areas nearby canals and rivers are having to pump water from their buildings. Most of those feeling the brunt of the storm are in low lying areas near the three major rivers: Kizugawa, Ujigawa and Katsuragawa. If you are planning to travel around Kyoto this week, you'll be better off traveling by train. Trains are still running in most areas, but those...
Read More
Below are the scheduled dates for when cherry blossoms will most likely bloom according to the Japan Weather Association. The best way to really get a feel for when the flowers will bloom is to be in Japan and get outdoors to check places in person. If you are not in Japan or cannot get out to check the cherry blossoms firsthand, then you will need to find a website or someone living in an area you wish to visit. If you are in the Kyoto area, please come back to this site, KansaiNews, and get...
Read More
In a rush today going back and forth from Kyoto to Nara so I have to stop and get something quick and delicious for lunch. What better food than Nepali food to break up the monotony of eating Japanese food each and every day. Right now, Namaste Taj Mahal restaurants throughout the Kansai region offer all-you-can-eat nan with lunch for an additional ¥340 yen! The total cost for lunch is under ¥1000! The meal comes with curry, salad, nan and...
Read More
Apple is inundated with complaints about their latest venture, doing away with Google Map and starting a mapping service of their own. People around the world are complaining left and right about missing and messed up map components. Now Japanese as jumping on the complaint wagon. This morning the news on local TV stations broadcast stories of people bemoaning the use of the Apple maps on their recently updated iPhones. Many wish they had never updated their phones and are afraid of using the...
Read More