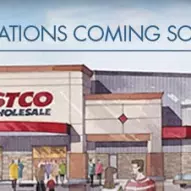 Costco Yawata Officially Opens Today
As of today, Kyoto can boast of having a Costco located within the prefectural boundaries!
Yawata City, which lies just along the northeastern border of Osaka prefecture, is host to one of the latest Costco stores to be opened in Japan. Tons of people will be flocking to the store today to get a glimpse of the latest addition to the Costco Japan family.
Roads leading into the Yawata Costco will most likely be jammed with cars as members and visitors head to the store to shop on Opening Day.
Locals have been anticipating this day for a long time and have hopefully prepared themselves for the traffic that will now be something they have to deal with on a daily basis. Granted, it might not be as bad as it most likely will be today, but nonetheless, from now on, anyone living near Costco Yawata will have a lot more traffic.
Locals, like myself, will most likely walk or ride their bicycles to beat the traffic. Anyone going by train will have to take a bus or taxi in order to get to the store since JR Matsuiyamate station is not a close walk away. But even though the store is not a short walk away, today, anyone going by train might want to consider walking. It might be actually faster!
I'm heading there by bicycle now…