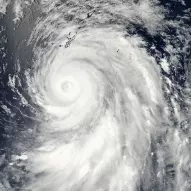 Invest 95 – Typhoon Guchol
A large typhoon is making its way onto land in Japan and is expected to bring heavy rain and winds to the Kansai region later this afternoon and into the night.
Schools in Osaka are letting children out early today, while schools in Kyoto are still in session.
A warning over the loud speaker system here in Kyoto just came on a few minutes ago warning people that there will be heavy rain and high winds later on around 7pm as the typhoon begins to hit Kyoto.
Right now, current conditions in Kyoto are calm with little to no wind. It's kinda like the calm before the storm.