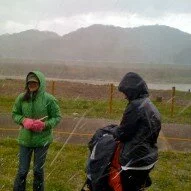 Freaky Hanami Weekend Weather
For the past few years, weekends have been a drama with weather. One thing that has almost always happened is it rains Friday night and stops early Saturday morning. Then around lunchtime, the clouds begin gathering again. From this point, it's anyone's guess what will happen.
One Saturday during hanami, it rained all night Friday then stopped around 8:30am. The sun gradually came out and warmed up enough we could take our jackets off and play in short-sleeved shirts. But that all changed around 1pm. From that point, the air cooled and the clouds began coming in. Soon it began to rain; only a short shower. Then it got sunny again and warmed up. Mind you, it wasn't as warm as it was earlier in the day. Then clouds came in again and the air cooled. This time, it got chilly. The wind also picked up. Soon it began to rain. But then something surprising happened. It began to hail. Shortly after that, would you believe, it got sunny again!
At this time, it was about 3pm. So the sun was starting to get lower on the horizon. Many people doing their cherry blossom viewing began to go home around 1pm when the first rain came. Those who stayed for the second heavier shower soon began leaving for home in round 2. But then came round 3.
The third wave of clouds brought even colder air and this time ice and snow. It first started sleeting and then snowed. At this point, we finally decided to pack up because it didn't look like it would clear up this time around.
Thirty minutes later, as we were walking across the bridge to the station, the sun came out again. But then came round 4! By that time, many of us were either in our cars or on the train back home!
Weekend weather during spring is not always like this, but it is unpredictable most on Saturday for some reason. Sundays are a little less dramatic.
As for this weekend, the current forecast is saying sunny Friday night, cloudy Saturday morning.