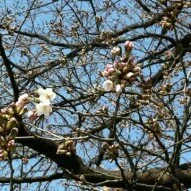 Kyoto Cherry Blossoms Just Starting to Open
Cherry blossoms in Kyoto are opening a little later than last year, but they are opening.
It's Monday, April 2nd and April Fool's Day is over. So no fooling around when I say the cherry blossoms are beginning to bloom.
Yesterday, April 1st, was a rather warm day in the afternoon. Tonight will be cool and tomorrow even warmer than today. So sakura, cherry blossoms, should begin to open a bit faster from tomorrow.
Look to see cherry blossoms at about 40 to 50% opened by this weekend in the Kyoto area of Japan.